NIGHTFIELDS
The Nightfields program is a multi-sport-based activity delivered to at-risk, socially disadvantaged and disengaged youth (aged 6-18) in after school hours with the aim of encouraging positive community engagement and participation, developing healthier individuals and reducing anti-social behaviour.
The program is run in consultation with WA police, various Local Governments and Shires as well as a broad range of local service providers who assist in program planning, promotions and engaging with participants. At each Nightfields session, participants receive free food following their involvement in all sporting activities.
For more information about the Nightfields program please contact Jade Wyllie on 0447 784 423 or jade@smfoundation.org.au
ACADEMIES
Regional Youth Girls
Despite the growing popularity and interest in female football, there are still many areas across Western Australia where girls aged 13-17 do not have the opportunity to play AFL in the community.
Across the past 18 months the Stephen Michael Foundation has developed a number of pilot events, carnivals and competitions focused on youth girls in targeted regional areas including the Upper Great Southern (Narrogin, Katanning, Wagin, Kojonup and Boddington), Gascoyne (Carnarvon and Exmouth) and the Murchison (Meekatharra, Mt Magnet, Wiluna and Cue).
Following these pilot events training hubs have been set up in the Upper Great Southern and Gascoyne region to develop the most talented local female Footballers. The academies train once a week to enhance their talent and ease the transition down to play with South Fremantle Women's Talent Squads. The academies are coached by local coaches (Tyrone Durack and Gavin De Gruchy in the Upper Great Southern and Pete Lawer and Liam Mollross in the Gascoyne) who are continually being upskilled and developed by our coach coordinator Tony Micale.
Regional Youth Boys
The main premise of the regional Academies is to help upskill local players and then identify any that may be able to play for the South Fremantle Youth Development Squads and Colt's programs. The South Fremantle Football Club have an established Talent Development squad in the Upper Great Southern however the SMF last year introduced the very first Gascoyne Talent squad comprising of the best 30 male players in the region.
The UGS squad were last year coached by Liam Anthony the SMF program Manager with local coaches (Ethan Mollross and Mick Hall) coaching the Gascoyne squad.
RECLINK
Reclink Australia provides sport and art programs to disadvantaged Australians to create socially inclusive, life changing opportunities. The SMF have over the past 18 months have developed a strong partnership with Reclink in WA to help create pathways to improved health and wellbeing, education and employment outcomes for all of their participants.
The two main programs we are involved in are street games which is held on a Wednesday morning and Kick in the Park on a Thursday morning, both of which are held in Fremantle. The main objective of these two programs is to encourage, promote and educate program participants about the benefits of regular exercise and the impact this will have on physical, mental health and wellbeing.
Encourage social interaction and networking by providing a safe environment that supports meeting new people, making friends and exercising.
To find out more about the Stephen Michael Foundations' Reclink partnership please contact Liam Anthony liam@smfoundation.org.au or 0408 929 960.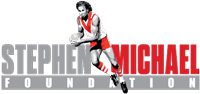 Respect  •  Inclusion  •  Empowerment  •  Integrity  •  Responsibility  •  Collaboration