VOLUNTEER
The Stephen Michael Foundation is a small organisation with big plans and an even bigger heart. As the Foundation continues to grow it needs support in a variety of areas both on the ground and through strategic development.
By volunteering for the Foundation, you will be provided with an opportunity to give directly to the communities that the Foundation works in and witness firsthand the joy that the Foundations' programs, events and activities bring to its' participants.
Register your interest in volunteering for the Stephen Michael Foundation
PARTNERSHIPS
By partnering with the Stephen Michael Foundation your organisation will help drive its' five key pillars of action:
Engaged and inclusive communities
Sustainable local programs
Strong and Healthy young people
Opportunities for work and education
Quality organisation
To find out more about how your organisation can partner with the Stephen Michael Foundation please contact Chief Executive Officer Paul Mugambwa, paul@smfoundation.org.au or 0400 037 417.
DONATE
By donating to the Stephen Michael Foundation you will assist us achieve our vision of youth reaching their full potential and becoming valued members of their community.
As a registered Charity with Deductible Gift Registration status you will also be eligible to receive a tax deduction from your donation.
To donate, visit givenow.com.au/smfoundation or fill out the form below.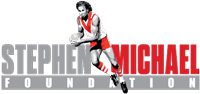 Respect  •  Inclusion  •  Empowerment  •  Integrity  •  Responsibility  •  Collaboration