FREMANTLE, WA
DEVELOPING CLEAR
PATHWAYS
Based in the heart land of South Fremantle, the Fremantle College Football Academy focuses on a providing a holistic learning experience for its members, targeting intense skill develop and game play analysis and application. The Academy aims to improve its member's knowledge of the game and develop clear pathways for continued involvement in football beyond school.
The Fremantle College Football program is aligned with the South Fremantle Football club, meaning that the academy members are provided with a learning environment that reflects the values and practices of one of Western Australia's proudest sporting clubs.
A carefully constructed program
Through the College's partnership with the Stephen Michael Foundation, our academy students are provided with a carefully constructed program that addresses:
Leadership
Decision making
Nutrition
Resilience
Alcohol and drugs
Relationships and respect
Aboriginal art and culture
The members of our football academy are provided with opportunities through the Stephen Michael Foundation, to engage with the wider community, including with schools in remote regions of Western Australia, to act as ambassadors of the program and the game of football. As the only metropolitan school partnered with the Stephen Michael Foundation, we are offered a unique opportunity to expose our students to experiences unlike any other metropolitan school in Perth.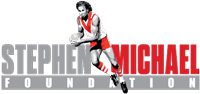 Respect  •  Inclusion  •  Trust • Empowerment