RISING LEADERS
The Stephen Michael Foundation Rising Leaders program utilises sport to engage, encourage and support the development of school students as leaders amongst their peers and within their communities. The program which is targeted at disengaged students aged 12-17, involves both practical and theoretical activities including:
Leadership & Decision Making
Coaching & Umpiring
AFL Skill development
Physical & Mental Health
Aboriginal Culture
Employment in Sport
The Stephen Michael Foundation also utilise the Rising Leaders program to identify potential work place students and trainees who will be appointed by the foundation.
For more information about the Rising Leaders program contact Liam Anthony on 0408 929 960 or liam@smfoundation.org.au
UMPIRING PROGRAMS
The Stephen Michael Foundation recognises AFL Umpiring as a significant opportunity for youth and young adults to gain casual and part-time employment. AFL Umpiring also provides participants with an opportunity to improve self-confidence, develop communication ability, enhance leadership capabilities, make new friends and keep fit.
The Stephen Michael Umpiring Program is managed by Darryl Sinclair who boasts more than 40 years' experience in umpiring and umpire coaching at the elite level.
To find out more about the Stephen Michael Foundations' umpire program please contact Darryl Sinclair darryl@smfoundaton.org.au or 0447  741  958
NIGHTFIELDS
The NightFields Program is a multi-sport activity delivered to at-risk and disengaged youth after hours to encourage positive engagement and reduce anti-social behaviour.
NightFields sessions are generally run between the hours of 6pm to 9pm on Friday or Saturday nights and incorporate skill development, match play and education sessions. Participants also receive free food and are supported with transport requirements. NightFields sessions are supported by youth workers provided by local service providers and WA Police YCIOs who assist in program promotions and engagement with participants.
For more information about the NightFields program please contact Liam Anthony on 0408 929 960 or liam@smfoundation.org.au
CULTURE THROUGH SPORT
In partnership with Noongar Wellbeing & Sport and Barwell Media, the Stephen Michael Foundation has developed the "Culture Through Sport" program which provides school students with an opportunity to learn, appreciate and experience aspects of Aboriginal and Torres Strait Islander cultures by engaging in traditional Aboriginal games.
The Culture Through Sport program is provided at no cost to schools and features a range of activities including:
Explanation and delivery of Traditional Aboriginal games
Vision of "Nyoongar Footy Magic" documentary series
Education on the significance of NAIDOC Week
Participation in a Traditional Aboriginal Games tournament
Opportunity to meet former and current AFL, AFLW and WAFL players
Opportunity to hear from local Aboriginal Elders
Train-the-trainer program for teachers and staff
For more information about the Culture Through Sport program please contact Liam Anthony on 0408 929 960 or liam@smfoundation.org.au
COMMUNITY CAPACITY
The Stephen Michael Foundation deliver a broad range of sports based and personal development programs to increase the capacity of local community members and support short and long-term needs including welfare, education, training and employment.
The Stephen Michael Foundation utilise local service providers, local schools, government agencies and key local working groups to promote the programs while also providing direct opportunities for local community members to be appointed in a variety of paid and volunteer roles that support local sporting activities.
It is anticipated that the increased capacity and connection amongst local community members will lead to greater community harmony and long-term sustainability of program activities.
STEPHEN MICHAEL FOUNDATION
REGISTER YOUR INTEREST
IN OUR PROGRAMS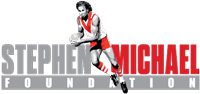 Respect  •  Inclusion  •  Empowerment  •  Integrity  •  Responsibility  •  Collaboration