REGIONAL YOUTH FOOTY SERIES
Project Partner:

Department of Local Government, Sport & Cultural Industries
The Regional Youth Footy Series Project targets boys and girls aged 10-17 that reside within the Murchison Region and Gascoyne region of Western Australia.
The project will aim to achieve several key objectives including:
Increase participation of youth in the physical activity
Increased awareness of the benefits of involvement in physical activity
Increased awareness of healthy lifestyles and subsequent benefits
Increased school attendance and behaviours amongst participants
Reduction in anti-social behaviour amongst participants
RISING LEADERS PROJECT
Project Partner:

W.A. Department of Justice
The Rising Leaders Project utilises sports-based programs to engage at-risk youth that reside within targeted regional areas and in turn assist in the reduction of criminal incidents related to anti-social behaviour, truancy, drug and alcohol abuse.
The two year project targets youth residing in the Gascoyne, Murchison and Upper Great Southern regions of Western Australia.
FIT FOR 4
Project Partner:

Sport Australia
The "Fit for 4" project aims to increase the level of physical activity amongst youth residing in targeted remote communities in WA by delivering a range of sporting activities and educational sessions that promote the benefits of staying physically active.
The project aims to achieve a broad range of outcomes including:
Increase number of sporting activities available to target group/communities
Promote benefits of staying physically active to targeted participants and extended family networks
Reduce barriers to remaining physically active experienced by target group
Increase usage of local sporting facilities
Increase capacity of local community members to support coordination and delivery of activities
STEPHEN MICHAEL FOUNDATION
REGISTER YOUR INTEREST
IN OUR PROGRAMS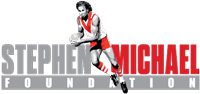 Respect  •  Inclusion  •  Empowerment  •  Integrity  •  Responsibility  •  Collaboration