Gascoyne
In the Gascoyne Region we run community and talent programs in the towns of Burringurrah, Carnarvon, Denham, Exmouth and Gascoyne Junction.
Our main community programs in the region are Rising Leaders, Culture Through Sport, Regional carnivals & Metro competitions.
The talent-based outcomes derive from the talent carnivals we conduct in the region. Our talent outcomes are an invitation to join the Gascoyne Bulldogs for both males and females.
This is thanks to the support by our major sponsors: LotteryWest, Healthway, Foodbank and the Shires associated in the region, the Clontarf Foundation, Shooting Stars and the PCYC.
Over the three years, the foundation has been in the Gascoyne, we've had success in:
Starting the Gascoyne Bulldogs Academy
20 Academy players whom played a curtain raiser at Optus Stadium in 2019
50 Academy players who participated in our October Carnival 2019 in Perth
Teams travelled down to Perth to participate in the 2020 Nicky Winmar and Kirby Bentley.
For further information on the Foundation's work in the Gascoyne Region please contact Tessa Daly on 0417 720 176 or tessa@smfoundation.org.au
Metropolitan
In the Perth metropolitan area, the Stephen Michael Foundation predominantly work in the South Fremantle Development region which includes the Fremantle, Cockburn, Kwinana and Armadale councils. We also currently deliver programs in the City of Rockingham.
A lot of the work we do in the Perth metropolitan area is centred around our Rising Leaders program. Currently we deliver this 20 week personal development, mentoring and capacity building program to students inside Fremantle College, Lakeland SHS, Safety Bay SHS and Gilmore College. We also have strong ties to SEDA College WA where we deliver Coaching & Umpiring programs along with volunteer and practical employment opportunities.
The other key programs delivered in our Metro region are after-hours sporting programs called Nightfields & Nighthoops. These programs have enabled the Stephen Michael Foundation to build strong relationships with a number of key service providers to enhance the ability of youth to be involved in safe and fun activities at a time of need for each specific region.
For further information on the Foundation's work in the Perth metropolitan region please contact Liam Anthony on 0408 929 960 or liam@smfoundation.org.au
Murchison
Located in the Murchison region of Western Australia and more than 774kms from Perth, the town of Meekatharra has been a high priority town for the delivery of SMF programs and events since our beginning in 2017. Across the past six years, the Foundation has expanded its reach to additional towns in the Murchison region including Mount Magnet, Cue, Yalgoo and Wiluna.
The SMF works in collaboration with local service providers, government agencies and community members to develop, deliver and evaluate a broad range of programs involving youth and community members including:
Rising Leaders Program
Mulit-Sport Development clinics/carnivals
Umpire & Coach Development
After-hours sports program
Cultural Exchange Camps
The SMF employs locally based staff members in the Murchison and continues to work with local community members to enhance their capacity to coordinate and deliver program activities.
For further information on the Foundation's work in the Murchison region please contact Wes Ward on 0456183354 or wes@smfoundation.org.au
South West
The Stephen Michael Foundation has been delivering programs in the South West region since 2020, primarily in the towns of Collie and Busselton. Schools we deliver to include Collie Senior High School, Wilson Park Primary School, Amaroo Primary School and Busselton Senior High School.
Our main programs, such as Rising Leaders, Rising Leaders 2.0, NightFields and Sporting Schools clinics are run in this region to encourage youth engagement and to develop strong relationships with service providers, sponsors, and community members
The South West region holds great significance to the Foundation as Collie is home to our Patron. The reverence Stephen Michael has earned through his dedication to supporting the Collie community has further assisted the SMF greatly in building strong community connections. This includes his work with our major sponsors, Premier Coal and South32, who have funded and supported our Rising Leaders and NightFields programs since their introduction.
In 2022, the SMF will continue delivering programs in the South West region for the third year. We are fortunate to be working again with previous program participants through Rising Leaders 2.0, whilst also delivering Rising Leaders to a new cohort of students. Sporting Schools programs will kickstart in Term 1 at Wilson Park Primary School, followed by all other programs commencing in Term 2.
For further information on the Foundation's work in the South West region, please contact Regional Manager Rory Yates on 0475 282 571 or rory@smfoundation.org.au
Upper Great Southern
The Upper Great Southern Football League (UGSFL) is a part of the WA Wheatbelt region and includes the towns of Narrogin, Katanning, Boddington and Wagin. The UGSFL is rich in football history and is a highly valued recruitment zone for the South Fremantle Football Club (SFFC). A number of past and present SFFC players have been recruited from this league over the years and through our continued relationship with South Fremantle, the Stephen Michael Foundation (SMF) has been able to establish a strong presence in the football community. Here our aim is to not only support and coach the development of male footballers, but to increase the participation levels of female footballers as well.
One of the key achievements for the SMF over the last few years has been the establishment of a Female Football Academy in the region. The Academy has promoted 8 of the more talented players through to South Fremantle's Rogers Cup and League teams over the last 3 years. Two of these girls, Rosie Anderson and Aaliyah Ugle, have also gone on to be selected into State Academy squads.
Whilst football and Talent ID play a part in our vision locally, developing strong connection with like-minded organisations to support and develop youth is our main objective. With our presence in the region over the past 3 – 4 years, our team has built many strong relationships with local service providers including the YMCA, Holyoake and Keedac amongst others to implement new initiatives both in school and out of school. Our main program focus includes our Rising Leaders, Nighthoops and Culture through Sport programs
For further information on the Foundation's work within the Upper Great Southern please contact Liam Anthony on 0408 929 960 or liam@smfoundation.org.au
Northern Goldfields
The Stephen Michael Foundation has been delivering programs in the Northern Goldfields region since 2020, with a focus on the towns of Laverton and Leonora.
School based programs include sporting clinics with students aged PP-Yr 12, in class support with literacy and numeracy, and the Rising Leaders program targeting high school aged students. Community based programs include Nightfields program which is an after-school sport program that engages young people in positive behaviour. The SMF would like to thank our major sponsors in the region:
Department of Local Government, sport and Cultural Industries
Healthway
Laverton Cross Cultural Association and affiliated mining companies
Shire of Leonora
AngloGold Ashanti
Rio Tinto
BHP
St Barbaras
The SMF has taken a collaborative approach to programming in the region and has built a number of important community partnerships since 2020. These include local schools, local shires and the following organisations:
Laverton Cross Cultural Association
Pakaanu Aboriginal Corporation
Hope Community Services
Shooting Stars
The SMF looks forward to continuing program delivery in the Northern Goldfields with future goals to increase local employment and traineeships for local youth.
For further information on the Foundation's work in the Northern Goldfields please contact Regional Manager Rory Yates on 0475 282 571 or rory@smfoundation.org.au
The targeted communities of the SMF have been selected based on a combination of statistical indicators of need, community consultation and feedback from pilot programs that have been delivered by the SMF. The Foundation also use the South Fremantle Football Clubs development region boundaries as a guideline for program activities and engagement.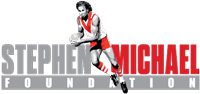 Respect  •  Inclusion  •  Trust • Empowerment