CONGRATULATIONS MUNEERAH FOSTER!
Muneerah Foster umpired her first Colts game on Saturday 7th of August at Revo Fitness Stadium.
Muneerah comes from a Multicultural Background and started her umpiring with Edmund Rice and the Stephen Michael Foundation (2019). Muneerah demonstrated much talent through the East Fremantle Junior Umpires District.
It is through her commitment that she has progressed so quickly and is now making her WAFL Goal Umpiring debut. The Foundation is extremely proud of Muneerah and is excited to follow her journey.
SMF looks forward to continuing working with the AFL & WAFC to further provide opportunities for up-and-coming umpires throughout WA.
Further information on the SMF Umpiring Program and initiatives can be found at https://smfoundation.org.au/umpiring/#umpiring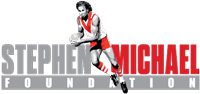 Respect  •  Inclusion  •  Empowerment  •  Integrity  •  Responsibility  •  Collaboration